Remember the 90's? I was raising a kid and trying really hard to make money on the side. I did a bunch of different stuff because getting by on one income just wasn't cutting it. One of my projects was "wearable art," and I painted denim jackets and sold them at flea markets.
I have to say that it was one of the MOST fun times in my life.
Shannon was little then, maybe 3 or 4, and I'd give her some paint and paper and I'd work on my stuff. She thought that was great fun, and may be part of the reason that she was so attracted to art. Of course, it is in her genes, since her grandparents have been artists their entire lives. My father-in-law ran a studio in Pittsburgh, and my mother-in-law paints amazing stuff that she sells here and there. My husband has the art gene, too, so it was only natural.
Anyway, thought you might enjoy seeing some of these.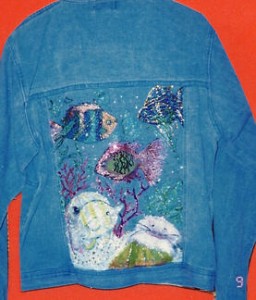 This was a bunch of shiny, sparkly fish. Someone bought this for $35 at the time. I'd go to Goodwill or another resale shop and get these jackets for low prices, paint them and sell them for much more. It till me about three days or so to create one, so it was slow going, but at the time, there was no online business and the money — no matter how much it was — was always welcome.
I did some craft shows and taught crafts at a crafts store for a while, and had a great time of it. People really loved seeing and making my projects, too, so that was cool. But it only paid like $50 a class or something and I only did them when they had enough folks signed up.  Nothing was steady, but I was having a blast. Here's another one: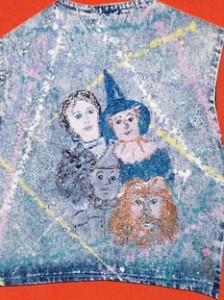 I just had to make this one for Shannon. She was all about the Wizard of Oz at the time and carried a "Dorothy" doll around with her 24/7.  She loved this one, and a few others I did for her like Frankenstein for Halloween and panda bears. She wore that one for a few years, and still has it in her closet.
But those days are past. Who knows? Maybe another time I'll start working on this kind of stuff again, but just wait until you see my kachinas!
I've always been into Native American culture and heritage. It's extremely fascinating and I was heavily involved in study for a long time. I even wrote a book about the Navajo people back in 1998, and was really fascinated when writing the Dalai Lama, to see how Native American culture evolved from Asian. The parallels are just too great.
We'll talk about that some other time. For now, surprise! Tech girl can be artsy, too. I think it's the right-left brain connection that I've been able to bridge. It breaks sometimes, but I'd be really happy going back to those days. Maybe when I'm an old woman, living in the desert, wearing Navajo-style clothing with lots of turquoise and long, grey hair. Yeah.  I have Ben Mack calling me "hippie Pat."  Give me a good thirty years and I'm there. 🙂