As you know, I'm a writer. I write a LOT every single day and I read a LOT, too. I love to read and it can be anything from a silly Terry Pratchett novel to the latest guru manifesto. It really doesn't matter to me because I know that every time I read something, I'm learning. I don't remember things word for word — like never, but I know my brain is storing information even when I'm not thinking about it. And I love to learn new things. Don't you?
What makes me love reading even more is my Kindle. It's wonderful! I got it for my birthday last year from Overcome Everything, which was really great of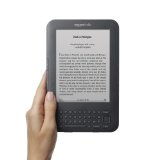 Tellman and friends to do. But here's a cool thing about it…
Tellman is constantly telling us to read books about business and mindset. The last two were Changing the Channel by Michael Masterson and Mary Ellen Tribby and Delivering Happiness by Tony Hsieh of Zappos fame.  Both were excellent books, but the really cool thing was that I was able to get them in 10 seconds flat and start reading them almost immediately. (We often have a deadline of just a few days, which makes it hard for me because I'm a very slow reader. Why? Mind bounces too much and I get distracted thinking about other things. Grr. Makes me nuts but go figure. I think that's why I neglected writing for so long.)
Anyway, the Kindle has made my life a lot easier. The ability to search for books and buy them right from the device and then, have them downloaded almost instantly is incredible. I love that!
Plus, it's small. You can throw it into your purse when you have a doctor's appointment or when you're standing in line waiting for the groceries to be checked out, you can whip out your Kindle and BAM! Be reading. I love it. From now on when I go out of town, no heavy bulky laptop, just my Android phone and my Kindle. That should do it.
The only problem is that there's only one Kindle in the family right now, and we're often fighting over it. LOL With the way the price has come down… it may be time for another.   I get the new one, of course. 🙂 Kidding. I truly do…
Love my Kindle!